I ran into an issue today with a person not receiving emails from Quickr even when they were added in the correct places and the 'Receive news summary email' was set to yes. I removed the user and re-added them thinking that maybe there was something cached that was not allowing it to go through.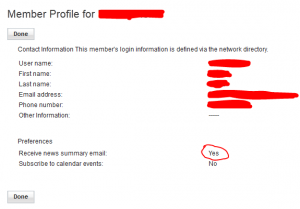 I looked at several other users and settings and couldn't see what was going on that was not allowing the email to go through. Finally I decided to see if they could receive an email directly from Quickr. I logged in and went to the Quickr place, clicked on members and under more actions selected Notify. I entered the users' email address and sent it. Shortly after I received this message:

I checked the Domino NAB and sure enough the user was somehow listed twice (they were an employee a few years ago so its seems that they weren't properly deleted). I went ahead and removed the old entry from the NAB and sent another test email. Now they can receive emails from Quickr.
Another issue solved… On to the next one.