So here's the scoop, right now Microsoft is giving away Windows 10 for free for every eligible system until mid next year. Currently, Windows 10 is scheduled for general availability on July 29th. From what I read if you have Windows 7 and above and your computer manufacturer and hardware support Windows 10 you are eligible. To take advantage of this offer look for the Windows icon in the notification area (the lower right-hand corner of your screen by the clock). Click on this icon and complete the steps. NOTE: It states that Windows 10 will be downloaded automatically (3GB download), but it will prompt for you to pick a time to install it. Even if you aren't sure if you want to install Windows 10 I would consider signing up for the free copy so the option is available to you. I have put together several screenshots highlighting the process and some information from the confirmation email.
If you don't see the Windows icon in the Notification Area make sure your computer is up-to-date with the latest Windows Updates and be patient. It took a few weeks for it to show on a few of my computers. Let me know if this worked for you.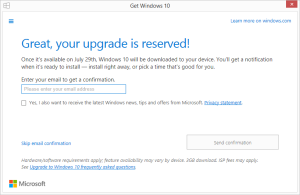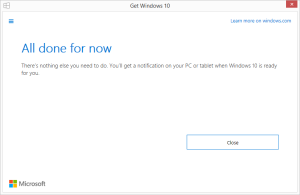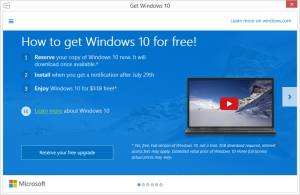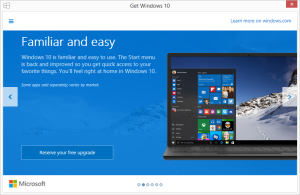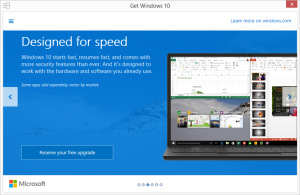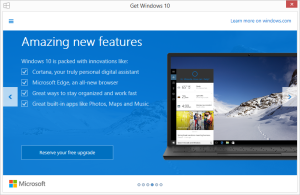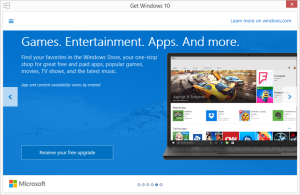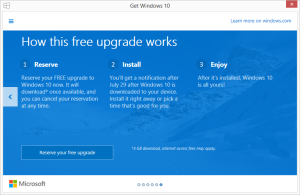 Congratulations on reserving Windows 10
Your free upgrade will be available from July 29th, and now that you've reserved it, you won't miss a minute of Windows 10 helping you do great things.
Because you've reserved, Windows will automatically take care of the download in advance. Then you'll get a notification when your upgrade is ready to install. That way you can start using Windows 10 immediately – or schedule a time to install that's convenient for you. If you have any more questions, check out the upgrade FAQ.
Read the FAQ   
You've just reserved your free upgrade using the "Get Windows 10" app. You can also use the app to confirm the reservation, check to see if your device is compatible with Windows 10, and un-reserve if you wish to cancel your reservation prior to your Windows 10 upgrade. If you want to return to the app, just click the Windows logo in the taskbar.
In addition to features you may have heard about such as Cortana* and Microsoft Edge, our new web browser, Windows 10 contains lots of other exciting tools to help you do great things.
Learn more   
Windows is about helping people do great things, so we created a series of videos to show the innovative ways individuals use Windows to realize their potential. These include Mikaila, a young girl working to save the bees, and Kyle, who creates motion capture animations. Doing is part of their DNA, and Windows gives them the tools they need to follow their passion.
Watch the videos   
More ways to keep up with Windows 10Want to get periodic emails about Windows 10? If you checked the box to receive emails when you reserved your free upgrade, you're already signed up. If not, sign up here. You can also keep up with all things Windows 10 on our Social channels, as well as the Windows Blog.
Windows Offer Details
Yes, free! This upgrade offer is for a full version of Windows 10, not a trial. 3GB download required; standard data rates apply. To take advantage of this free offer, you must upgrade to Windows 10 within one year of availability. Once you upgrade, you have Windows 10 for free on that device.Windows 10 Upgrade Offer is valid for qualified Windows 7 and Windows 8.1 devices, including devices you already own. Some hardware/software requirements apply and feature availability may vary by device and market. The availability of Windows 10 upgrade for Windows Phone 8.1 devices may vary by OEM, mobile operator or carrier. Devices must be connected to the internet and have Windows Update enabled. Windows 7 SP1 and Windows 8.1 Update required. Some editions are excluded: Windows 7 Enterprise, Windows 8/8.1 Enterprise, and Windows RT/RT 8.1. Active Software Assurance customers in volume licensing have the benefit to upgrade to Windows 10 enterprise offerings outside of this offer. To check for compatibility and other important installation information, visit your device manufacturer's website and the Windows 10 Specifications page. Additional requirements may apply over time for updates. Security and features are kept automatically up-to-date which is always enabled.*Not available in all markets.Microsoft respects your privacy. Please read our online Privacy Statement.
Microsoft Corporation
One Microsoft Way
Redmond, WA 98052 USA